Fatima Moien: Gracie Award Honoree on Why Muslim Representation in the Media Matters
Moien was also awarded a $10,000 scholarship from the Alliance for Women in Media Foundation.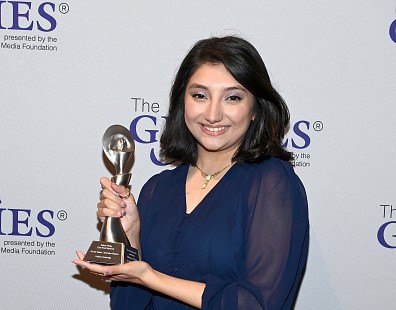 Atlanta — Fatima Moien never set out to become a journalist. The passion for the work found her. The 22-year-old award-winning journalist was recognized for her contributions as a moderator for Hofstra University's public affairs show "Live from Studio A." And she recently was awarded with a Gracie Award from the Alliance for Women in Media Foundation and a $10,000 scholarship.
Born in Pakistan, Moien emigrated to New York with her family in the early 2000s.
During that time, there were prevalent anti-Muslim sentiments that were exuded in the United States post 9/11. Moien felt and experienced the effects of this just as many did within the Muslim and Arab communities did and continue to face today. In the midst of it all, Moien had to become familiar with a country and language.
"I'm in New York. It is diverse out here, but I'm the only brown kid," said Moien. "I'm the only me."
She said she had always gravitated towards journalistic writing. She wrote for student media programs throughout elementary school, high school and college. By the time she was 18, she had to make a decision regarding what career that she wanted to pursue.
Some may have expected her to major in journalism, but Moien decided to pursue law enforcement and graduated from John Jay College of Criminal Justice in New York City. Although she majored in criminal justice, the journalism seed had been planted, and she minored in digital media and journalism.
"I was really inspired to take a leap into serving justice and taking care of people in my community and people beyond my community," said Moien.
Wanting to diffuse the tensions that exist between her community and law enforcement, she said she decided to become the representation that she had rarely ever seen.
During the COVID-19 pandemic, Moien along with the rest of the world heard the outcry for the death of George Floyd to receive justice, and it was then that she knew had to do more. Moien said she refused to serve a system that is the complete opposite of justice.
"As someone that was impressionable and still understanding what law and order meant, that was enough for me to take a step back and really think about Do I really want to be a police officer? and Do I really want to be tied to the actions of police officers that make the entire force look bad," Moien said.
She used her school's paper The Sentinel as a tool to bring attention to problems in our society. Moien said she believed that her culture significantly influences her experience as a journalist and how she approaches storytelling.
"I think people take Muslims as one image or one character, obviously, I don't wear the hijab," she said. "I think still people think that you're Muslim if you wear a piece of cloth over your head and speak Arabic and have a big nose like so many caricatures and stereotypes that exist around being Muslim, so breaking that down as a young face as someone that is from a different part of the world, but innately still part of a population that gets disrespected in the media."
For her, to now be in control of telling her own narrative as well as her community's means everything.
"We become desensitized to our own narratives that are written about us without us in the room, so representation means taking back the mic and speaking up for all the times when we could," said Moien.
Nakia Harmon, (she/her) is an Atlanta-based journalist who covers identity and justice. She also writes features and covers entertainment and culture. Follow her on Instagram: @nak.iaharmon.
Edited by Nykeya Woods
Support the Next Generation of Content Creators
Invest in the diverse voices that will shape and lead the future of journalism and art.
donate now
Support the Next Generation of Content Creators
Invest in the diverse voices that will shape and lead the future of journalism and art.
donate now