Attention Journalists: The Writer's Strike is Your Issue, Too!
Now that both writers and actors are on strike, it means many big changes are ahead within the media industry, greatly impacting journalists.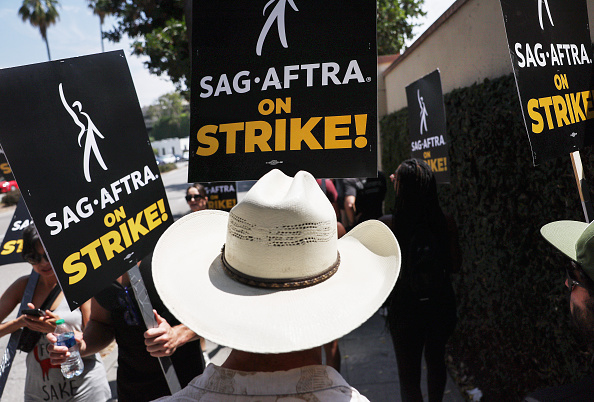 Philadelphia — As an entertainment journalist, I have focused much of my media studies on the ever-changing entertainment industry. As a lover of film and television, I pride myself on my ability to stay up to date on current issues impacting these industries. Like many others, I have been following the decisions being made by the Writers Guild Association (WGA), as well as The Screen Actors Guild-American Federation of Television and Radio Artists (SAG-AFTRA) about fair wages for writers and residuals for actors when television shows and films are re-broadcasted, especially through streaming services.
Last Thursday, SAG-AFTRA president, Fran Drescher announced the organization would officially go on strike alongside writers after their delegations with streaming services and studios failed.
"They stand on the wrong side of history at this very moment. We stand in solidarity, in unprecedented unity."

Today, SAG-AFTRA's President Fran Drescher and Chief Negotiator Duncan Crabtree-Ireland announced the #SAGAFTRAstrike. 💪🪧 #SAGAFTRAstrong pic.twitter.com/vha7ZxuEv4

— SAG-AFTRA (@sagaftra) July 13, 2023
To prepare members for the strike, the SAG-AFTRA organization has shared guidelines for all actors and writers who chose to strike. These are specific rules for industry events and opportunities in which members cannot participate in order to show solidarity with the cause. According to the SAG-AFTRA Strike website, "A strike means that no SAG-AFTRA member may perform covered services or work for a struck company." Some examples include on-camera work such as singing, acting, or dancing. For off-camera work, tasks like voice acting, interviews, junkets and award shows are prohibited. Members are also barred from negotiating and agreeing to future work opportunities.
So what does this mean for journalists?
This could mean significantly fewer opportunities for press coverage, depending on how many actors decide to strike. As we move closer to a season of film festivals and fall movie premieres, uncertainty is at an all-time high. On July 14, it was announced that the production of Deadpool 3 was suspended, making the Marvel film one of the first major films to be impacted by the strike. Additionally, production was suspended for Season 4 of the Netflix show, "Outer Banks"." Above all, Emmy nominations were completely overshadowed by the announcement of the strike. Participation in award shows goes against the strike's policy. This will likely cause a shift in the media cycle and we may see changes in the television programming this upcoming season.
As a journalist, this strike is a time to support and be the voice for those on the picket line. Without the writers and the actors, entertainment journalists would have little to cover. As someone who both informs and consumes the products of this industry, it is important for me to stand in solidarity with those asking for fair wages. If you are a journalist or just someone who loves film and television, the strike is something you should care about.
Alyssa Threadgill, (she/her) is from Philadelphia and covers lifestyle and entertainment. Follow her on Instagram and LinkedIn: @alyssathreadgill.
Edited by Nykeya Woods
Support the Next Generation of Content Creators
Invest in the diverse voices that will shape and lead the future of journalism and art.
donate now
Support the Next Generation of Content Creators
Invest in the diverse voices that will shape and lead the future of journalism and art.
donate now