A Guide to Surviving Your First Semester at NYU
Look no further for help with your schedule, academics, making friends and more at the university.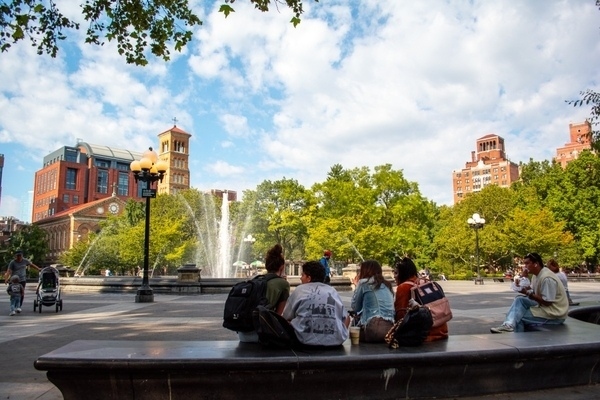 New York City, NY — by Carmo Moniz
This story was originally published on New York University's Washington Square News.
As you are about to begin your first semester at NYU, you might have questions about how to secure a prime study spot, where to go for academic support or how to drop that 8 a.m. class you are already regretting registering for.
If you want to save yourself a deep dive down the NYU subreddit or the parents' Facebook page to find answers, read on for our guide to your first semester and beyond at our beloved silly little purple school.
Where to study
The first and most popular option is Bobst Library, the towering red sandstone heart of NYU. Containing a staggering 425,000 square feet of potential study space, the 12-floor building is sure to fit your studying needs. The library offers both quiet and collaborative work spaces, with different floors and rooms designated for different styles of studying.
What to do if your schedule isn't ideal
Every semester starts with an add/drop period where you can change your schedule at no risk to your grades. If you have a class or professor that you don't think is right for you, you can try joining a waitlist for another class and see if it opens up before the period ends or join an open class. Plenty of other students are also trying to change their schedules during this period, so it just might work out that room opens up in a class that was previously full.
What to do if you're struggling in class
Finding people to help you study can feel like a challenge, but the University Learning Center, which has locations at 18 Washington Pl. and 110 E. 14th St., has got you covered. The ULC has academic skills workshops, peer tutoring and other programming to give you the skills you need to do well this semester. You can sign up for online or in-person tutoring sessions here and take a look at other events hosted by the ULC here.
How to meet people, even if you're not a people person
The university's NYU Welcome programming includes themed gatherings where you can find people with similar interests and spaces where you can meet students with shared identities. All of these events are included in the NYU Mobile app, where you can narrow the long — and sometimes overwhelming — list of events down to what interests you most. You can also learn about hundreds of student clubs and on-campus organizations at Club Fest during the welcome week festivities.
Read the rest of the story at Washington Square News.
Support the Next Generation of Content Creators
Invest in the diverse voices that will shape and lead the future of journalism and art.
donate now
Support the Next Generation of Content Creators
Invest in the diverse voices that will shape and lead the future of journalism and art.
donate now