Olivia Rodrigo's Got 'GUTS': The Anatomy of a Pop Punk Masterpiece
Olivia Rodrigo bares it all and avoids the sophomore slump.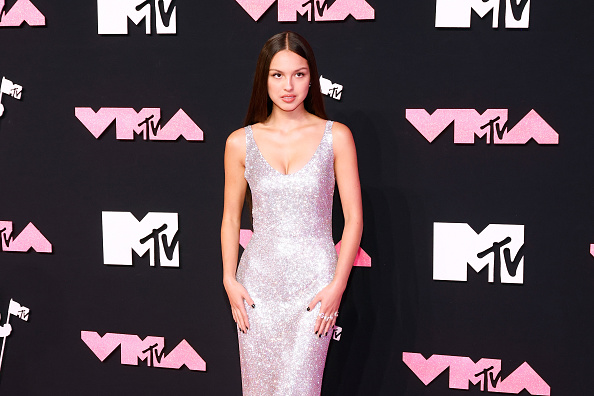 Los Angeles — Just in time for back to school and all of the depression and angst that comes with it, Olivia Rodrigo, the 20-year-old "Queen of Gen Z" and three-time Grammy-award winner, releases her second album, "GUTS". This album showcases her transformation of going from overnight sensation to mega pop/rock star, navigating her way through fame while experiencing inevitable heartbreak albeit enduring the confusing and bittersweet transition from girl to woman in the public eye.
The opener, ''all-american bitch,"song starts off akin to a mid-00s country-folk ballad with soft enchanting vocals then instantly shifts gears and transforms to a high-energy and loud pop-rock sound with lots of screaming and rage.
''bad idea right?'' is one of the most fun songs on the album, an upbeat pop punk track and as with most of Rodrigo's catalog is tinged with nostalgia. During the song, Rodrigo laments about an internal battle in her mind about whether she should ditch the party to see an ex-boyfriend, debating whether it's worth it to listen to that little devil on her shoulder to inconveniently reignite the flames of a past romance or listen to the angel telling her to move on and have fun with friends.
The somber gothic melody ''vampire'' is one of Rodrigo's most vulnerable songs as it details the problematic nature of her relationship with an older man. The tempo of the piano speeds up emphasizing the drama then aided by a electronic drum beat, guitar, and a fleeting synthesizer transforming the once slow ballad to nearly a dance tune.
''lacy'' details Rodrigo's admiration of another woman '''Lacy'' who is described as the picture perfect ideal woman that sets off Rodrigo's inferiority complex and yet desires to be like her. Her obsession turns to crippling jealousy then outright hate of the woman.
Our next song is a return to form with heavy fuzz guitars and a pop punk sound. For ''ballad of a homeschooled girl''. Rodrigo highlights her awkwardness and tendency for self-sabotage.
"making the bed" is a tranquil melody where we hear the intimate conversations inside her head. Rodrigo reflects on her life now that she achieved success in her music career, while proud of her accomplishments, feels overwhelmed by being a hot commodity in the public eye and is disillusioned by her fame, wishing that she could be typical once more as a thunderous melody plays in the background.
''logical'' follows Rodrigo continuing to reflect and regret having had that relationship with an older man as it touches on how the manipulation ran so deep that it made her think immaturely with the clever use of metaphors prevalent in Rodrigo's work as she did not question the red flags that came before her at the time. She is now logical in her thinking after realizing the way he convinced her to love and admire him was foolish.
"get him back!" is in a similar vein of ''bad idea, right?'' with Rodrigo musing over a short-lived past relationship with a guy who she knows isn't right for her. Rodrigo uses a double meaning in the title which is very evident in the song. The pop rock songs lean into spoken word territory with Rodrigo casually speaking in a deadpan tone about her past lover.
"love is embarrassing!" is self-explanatory as it perfectly encapsulates the mortifying emotional whirlwind and immaturity that comes with being young and in love, when getting that first bite of what you feel is true love and the crazy antics that makes us bend over backwards to keep holding onto it when it's practically over before it started. The song is very 80s with a strong new wave influence combined with the raucous sounds of grungy guitars, and you get a song that makes you want to dance along and sing out loud.
"the grudge" sometimes wounds never heal and we are not able to forgive and forget, as she is backed by a melody similar to Driver's License.
''pretty isn't pretty'' further explores Rodrigo's complicated relationship with femininity over the sounds of retro lo-fi style soft rock. Both songs are relatable to young women due to them being about common problems they face while also being sung by a woman who is writing them from the heart and them not feeling created by a focus group.
"teenage dream" is the closing track and beautifully wraps up the album with another self reflection. Rodrigo talks to her past self and is sorry that she failed to live up to the promise of experiencing a typical and happy adolescence, as she may have burnt herself out for art (acting and music) and doesn't know where to go from then and if she is able to keep topping herself.
Rodrigo spills out her guts in this album and it is a masterpiece of angst and teenage fury. The purple tinged record hits home feelings of love, loss, and regret. Five out of five broken hearts.
Zipporah Pruitt, (she/her) is an L.A. homegrown journalist, who covers entertainment and culture. Follow her on Twitter and Instagram: @zippzapps.
Edited by Nykeya Woods
Support the Next Generation of Content Creators
Invest in the diverse voices that will shape and lead the future of journalism and art.
donate now
Support the Next Generation of Content Creators
Invest in the diverse voices that will shape and lead the future of journalism and art.
donate now