Summer in My City: Washington, D.C.
A D.C. native's guide to a perfect summer in the nation's capital.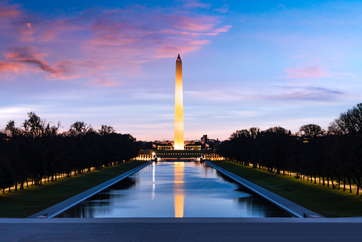 Washington, DC — Summer has always been a great time to explore. School's out. There are warmer temps. The season offers a chance to make fun memories with family and friends. With this knowledge, YR Media writers wrote stories about how their city is a great place to explore culture and museums, eat good food and just unwind. Check out our Summer in My City series.
A summer in the nation's capital is not to be missed! With something for everyone, Washington is full of life — both new and old!
Here are some of my favorite activities for a visitor looking for a taste of the city.
If you're looking for a unique D.C. experience, there's no better place to start than in the historic Meridian Hill Park. Informally called Malcolm X Park by locals as a tribute to the late civil rights activist, the park is home to history. After surviving many wars, the park was turned from a personal estate into a public park in 1910. Now it houses many statues, most notably one of the french heroine Joan of Arc. Seated atop a horse, this statue of Joan was given by the women of France to the women of America, and is the only equestrian statue featuring a woman in the entire city. Follow Joan's gaze and you can see the Washington Monument! Meridian Hill is also home to a Sunday night drum circle, which is a great way to delve into local D.C. culture.
Joan of Arc Statue | Courtesy of Eleanor Brosowsky
Nighttime Tour of the National Mall
Even as someone who can see them every day, I never cease to be inspired by the monuments of the National Mall. Though seeing them in the daytime is amazing, nothing can compare to a night-time tour of the mall. The sight of monuments wrapped in lights is not only beautiful, but allows one to see and appreciate our nation's history in a unique way.
Here are some of my personal favorite places around the mall to see at night.
Lincoln Memorial: The Lincoln at night is a sight to behold, with its marble statue and white columns brought into sharp relief by the night lights. The view here is only made better by the reflection pool located right below the memorial.
Vietnam Veterans Memorial: With the lights of the night sky reflected on the black granite wall, it is easy to gain an appreciation for not only the sacrifices that people have made for this country, but also for the beauty and art that we have brought into the world.
Memorial Bridge: One of my all-time favorite ways to take in the city's unique views is to take a drive across the Memorial Bridge at night, when you can see the entire National Mall lit up and reflected on the Potomac River
Everyone has heard of the Smithsonians, however when visiting DC it can be overwhelming when choosing which of the many (free!) museums to see.
Here are my top picks of Smithsonians to visit.
If you want to experience D.C. culture, there is no better place to visit than Union Market. With a great mix of local and nonlocal vendors, you can shop, eat, and explore urban art. Not only that, but Union Market also includes a Latin American market called La Cosecha with its own shops and restaurants, as well as unique experiences such as the Angelika Pop-Up, a film programming and event hub. There is something there that fits everyone's taste (in many cases literally) and you can never go wrong when you visit, even if it's only for a quick lunch stop!
Up for a little bit of physical activity in the D.C. heat? One of my favorite things to do is go down to Thompson Boat Center and rent a kayak or a stand-up paddleboard. Located right on the Georgetown Waterfront, you can paddle past the Kennedy Center and Georgetown or even past the monuments. Taking in the beautiful views of the river and the city is a great way to get to know Washington. When you're done on the water, walk along the Georgetown Waterfront, get a bite to eat, and explore!
Eleanor Brosowsky (she/her/hers) is a Washington, D.C.-based journalist.
Edited by Nykeya Woods
Support the Next Generation of Content Creators
Invest in the diverse voices that will shape and lead the future of journalism and art.
donate now
Support the Next Generation of Content Creators
Invest in the diverse voices that will shape and lead the future of journalism and art.
donate now