Are Paper Straws Really That Much Better Than Plastic?
A recent study found small traces of PFAS chemicals in paper and bamboo straws, raising suspicion about its effectiveness as an "eco-friendly" alternative.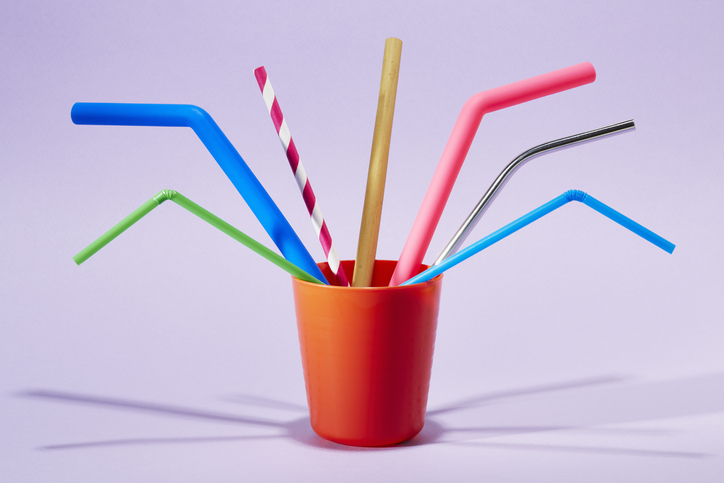 In 2019, when the dangers of plastic straws on our oceans and marine life became public knowledge, they've been slowly phased out in many major cities in the US. In public restaurants and stores, paper straws were the new norm, but as a new study deduced, it may not be all that better for our environment or our health.
In a study published to the Food Additives and Contaminants journal recently, Belgium scientists tested 39 straw brands for PFAS — all of various materials.
PFAS is an acronym for poly- and perfluoroalkyl substances, also referred to as "forever chemicals" because they never break down and last for thousands of years in the air, water, and soil. Their presence in consumer goods such as food packaging, cosmetics, and stain-resistant furniture is due to their ability to resist water, heat, stains, and grease.
Thimo Groffen, an author of the study and environmental scientist at the University of Antwerp notes, "Straws made from plant-based materials, such as paper and bamboo, are often advertised as being more sustainable and eco-friendly than those made from plastic. However, the presence of PFAS in these straws means that's not necessarily true."
According to a report by U.S. News, "These chemicals were found in 90% of paper straws; about 80% of bamboo straws; 75% of plastic straws, and 40% of glass straw brands." Interestingly enough, "PFAS were not detected in any of the five types of steel straws tested."
Researchers said that this should not be a cause for concern for individual users, since people use straws only occasionally and the chemical concentrations are low. Still, these chemicals can accumulate in the body for years, which is why, ideally, you want to cut down on exposures where you can.
"The presence of PFAS in paper and bamboo straws shows they are not necessarily biodegradable," Groffen said. "We did not detect any PFAS in stainless steel straws, so I would advise consumers to use this type of straw -- or just avoid using straws at all."
What's more, in an article published on NBC, Keith Vorst, director of the Polymer and Food Protection Consortium at Iowa State University, said that he has detected PFAS in much higher concentrations in drink carriers, take-home containers, and microwave popcorn bags.
"I have a little fear about, 'OK, now let's focus on straws' when we have much, much bigger issues that are contaminating the environment," Vorst said.
Brendan Ruh, also known as @santacruzmedicals, mentioned in a TikTok how we as consumers should be more careful about what trends we follow. "I think this paper straw thing is a really good example of these trends that just don't work out."
Knives Nguyen, (he/them/theirs) is a journalist from the Bay Area who covers entertainment and culture. You can connect with them on LinkedIn: @knivesnguyen.
Edited by Nykeya Woods
Support the Next Generation of Content Creators
Invest in the diverse voices that will shape and lead the future of journalism and art.
donate now
Support the Next Generation of Content Creators
Invest in the diverse voices that will shape and lead the future of journalism and art.
donate now