Fans Excited About Simone Biles' Return to Gymnastics
The seven-time Olympic medalist will compete for the first time since 2021 in August.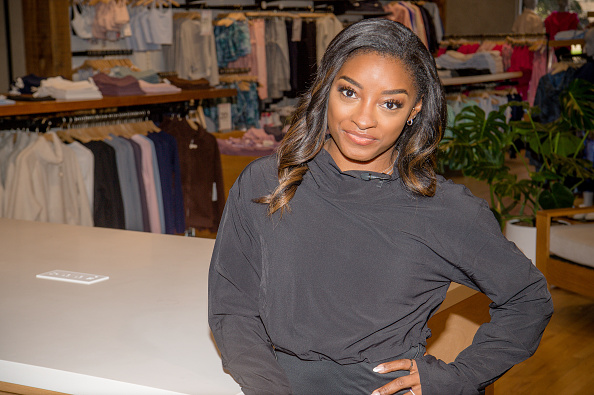 Boston — Watch out, competition world! Simone Biles is back.
For the first time in nearly two years, the four-time Olympic gold medalist will compete in the U.S. Classic, her first event since the 2020 Tokyo Olympics in 2021. The competition is the primary tune-up meet for the U.S. Championships, which will be held in August and is set to happen about 30 miles from Chicago. 
Biles will be joined by two-time gold medalist and Tokyo Games' defending all-around champion Sunisa Lee. Jade Carey and Jordan Chiles, also Tokyo Olympians, will compete in the U.S. Classic as well.
This would be the gymnastics star's first competition since withdrawing from the 2020 Olympic events due to the tremendous pressure she felt as the face and leader of her team, saying she was not in the "right state of mind to continue the competition" and needed to focus on her mental health. 

The social media reaction from Biles' announcement to compete again has come at a high volume, with varied responses. 
Many fans are looking forward to Biles' return to the competition world because they believe her proven talent will blow the world away and earn her more accolades.
Instagram users commented things like "The queen is back" and "the best news!" on ESPN Women's official Instagram's official announcement post.
The queen of gymnastics is back!

Welcome back, Simone Biles, as she makes her triumphant return to the sport she dominates. 🏅 We can't wait to witness more jaw-dropping routines, unmatched athleticism, and the unbreakable spirit of a true champion. 💪 #SimoneBiles #LikeAGirl pic.twitter.com/M2bYqV5sAu

— FUSE TV (@fusetv) June 28, 2023
Return of the Queen

— naomi (tranniehall.bsky.social)- NOT CIS (@H0NEYRIVER) June 28, 2023
🐐

— DantheCornell (@DantheCornell) June 28, 2023
Absolutely thrilled to see the GOAT back in action! 👑💪🔥 Simone Biles is a true inspiration, and her return to gymnastics is sure to make history once again. Nothing can stop her from shining even brighter! 🌟 View my profile please

— 🥚Barbra|Mendoza😘 (@BarbraMend4581) June 28, 2023
Other sports fans are skeptical of this news, calling Biles a "quitter" and predicting she will fail to handle the pressure and return to gymnastics.
This announcement also comes as noteworthy as Biles' return to competition after a post-2016 Olympic break at the 2018 U.S. Classic. However, the gymnastics star has not stated whether she intends to compete in the 2024 Olympics and has not publicly shared any information about her return to training.
The U.S. Classic will take place Aug. 4 to Aug. 5 at NOW Arena in Hoffman Estates, Illinois.
Trinity Alicia (she/her/hers) is a Boston-based journalist. Follow her on Twitter: @trinityaliciaa.
Edited by NaTyshca Pickett
Support the Next Generation of Content Creators
Invest in the diverse voices that will shape and lead the future of journalism and art.
donate now
Support the Next Generation of Content Creators
Invest in the diverse voices that will shape and lead the future of journalism and art.
donate now